Our account details can be changed easily by logging in to your account using your email address and password, you will access your account details.
To change information with your account, please sign in to your PayMe account and tap on Settings.
Here is how the account settings are organized:
- Details that can be edited manually.
- Details that can be edited only after contacting the customer support.
Details that can be edited manually will always be in a white background.
Editing the fields requires clicking on the field, entering the desired details, then clicking on the "Save Changes" button.

Our users' account security is extremely important to us here at PayMe and some details are a little more sensitive so there is control and supervision. These fields will be in a gray background and their change, as mentioned, requires contacting our customer service.

Follow these steps to update your details:
1) Click on the Change Request button.
2) A window will open with all the possible changeable details.
Select the relevant item and indicate the desired change in the white box -> Tap Send Request.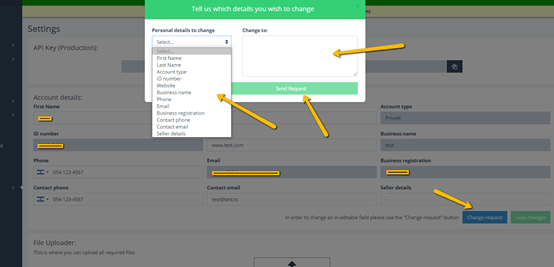 A request has now been sent to our customer support who will review the request and edit the details according to the request.
Immediately after the change, a confirmation email will be sent to the email address specified on the account.